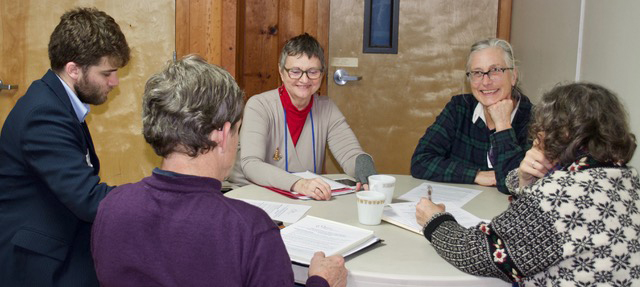 Criminal Justice Working Group Clerk, Sam Merrill.
Criminal Justice Legislative Progress for 2021

(updated 6/08/2021)
Police Reform and Racial Equity: 
(1) HB 1054: Prohibition of certain military equipment for police use, and certain forms of use of force, such as prohibition of use of neck constraints and choke holds, restrictions on the use of tear gas, a study to assess when to use canines for arrest or apprehension, as well as other items.  HB 1054 has passed the House 54-43 and the Senate 27-22, and has been signed into law.
(2) SB 5051: Decertification of officers guilty of wrong-doing.  SB 5051 has passed the Senate 26-19 and the House 77-22, and has been signed into law.  In coming sessions, QV expects to support reforms that include funding alternatives to incarceration such as diversion and use of professionals in the areas of substance abuse and mental health.
HB 1078 : Voting Rights under Community Supervision: Restoration of voting rights for persons released from prison but still under the authority of the Dept. of Corrections for community supervision.  HB 1078  passed the House 57-41, the Senate 27-22, and has been signed into law.  The bill will take effect Jan. 1, 2022.
HB 1282: Earned Release Time (ERT).  Would greatly increase the amount of earned release time that persons in prison who are considered to have a positive participation in educational and rehabilitative programming can accrue (raised from 10-15% to 33% accrual in most cases).  This option would increase hope and motivation to participate in such programs.  Unfortunately, HB 1282 was not passed this session.
SB 5226: Debt-based Drivers' License Suspension.  For civil moving violations, driver's licenses would not be suspended for failure to pay fines, i.e., not punish people for "driving while poor" (an estimated 900,000 persons in WA state have been convicted of driving with license suspended (DWLS-3) over a twenty-year period).  Courts would be required to make payment plans available, with referral to collection agencies if not followed.  Provisions would be retroactive as well as proactive.  Substitute SB 5226, with most provisions intact but with one significant change that would permit suspension of licenses in some cases, passed both Senate and House, and was signed into law by the Governor.  Quaker Voice had supported the original bill and asked the Governor to consider a partial veto.  Fortunately, two court cases have meanwhile been successful.  An ACLU suite in Thurston County Superior Court led to a ruling that license suspension for persons unable to pay fines is unconstitutional.  In another case, the ruling is that licenses must be returned retroactively to approximately 100,000 persons, and going forward, no suspensions are allowed until January of 2023.
SB 5047: Abolishing the Death Penalty. A longstanding Quaker commitment, cut-off from further consideration this session.
SB 5307: Bail-related Reform.  Uniform Release and Detention Act would provide an alternative to money bail for persons who are not a threat to harm themselves or others and when that is not the case, would restrict a court from imposing an amount of bail exceeding the defendant's ability to pay.  SB 5307 was cut-off from further consideration this session.
Volunteer Councils:  Would establish joint councils composed of volunteers who go into prisons and Dept. of Corrections officials to deal with restrictions placed on volunteers.
Nearly all of the issues above impact persons with low income and people of color disproportionately.
Issues to Research and Monitor as Needed
Post-conviction Review Board (for persons serving long sentences)
Incarcerated Elderly: Special concerns for elderly persons in prison
Voting Rights while Incarcerated (a long-term goal)
Criminal Justice Progress for 2020

Although the passage of new bills fell below Quaker Voice expectations in the 2020 session, we were remarkably pleased with the success in implementing the corrections ombuds bill that we championed for many years until its passage in 2018.  But first, two bills we supported in 2020 are now law:
A bill to prohibit contracts by the WA Dept. of Corrections for privately-operated prisons.
A "bail-jumping" bill that will reduce penalties for not appearing in court, which tend to affect low-income people most.
Unfortunately, several of our priority issues were not resolved in 2020 and await further work in 2021, including:
(1) Abolishing the Death Penalty
(2) Restoration of voting rights for persons released from prison but under community supervision
(3) Establishment of a system for review for possible release for persons serving long-term sentences such as 15-20 years
(4) Reform of debt-based suspension of drivers' licenses.
Quaker Voice understands that we are in this work for the long haul.  For many bills, success requires several sessions, as was the case for establishment of the corrections ombuds office and reform of legal financial obligations.
Corrections Ombuds Office: In fact, following many years of advocacy by Quaker Voice and other organizations, the corrections ombuds office was set up in late 2018.  It is a continuing success for us.  Housed in the governor's office, and led by the very talented and energetic Director, Joanna Carns, this office uses a hands-on approach and processes many concerns and grievances from persons in prison, proactively visits prisons to talk with the residents as well as staff and administrators, and works closely with the families of those in prison.
Working with the Dept. of Corrections, a workgroup was formed that has come to consensus on a number of solutions concerning the handling of grievances.  In April, following concern about COVID-19 under the close quarters in prisons and a law suit from a non-profit legal group, Governor Inslee announced the release of a significant number of those confined.  Director Carns hosts weekly phone calls with families of those in prisons and others to share progress and answer questions.  While maintaining a very busy schedule, she has kept in contact with Quaker Voice and other organizations involved with the ombuds work.
Successful bills in the past (2019) session:
HB 1041 (New Hope Act).   On discharging and vacating conviction records. Rep. Hansen, prime sponsor.  This new law, which helps clear the way for an opportunity to rebuild lives, became effective July 28, 2019.

SB 5207.  Although voting rights were not restored as hoped for persons under community supervision (see above), a bill (SB 5207) that prescribes notification of voting rights while still in prison (rights are restored after one leaves both prison and community supervision) was passed and became effective July 28, 2019.
HB 1064. Amends the police accountability Initiative I-940 to honor an agreement arranged by the proponents of I-940 and law enforcement officials; it is now law.
————————————————
We celebrated the passage in 2018 of not one but two of the criminal justice bills that we have worked on for at least the past ten years
Establish a Corrections Ombuds Office, independent of the Dept. of Corrections (Success):
An Independent Corrections Ombuds (HB 1889) passed the House and the Senate, was signed by the Governor, and is now law.

The ombuds office is housed in the governor's office and provides the opportunity for professionals in the Ombuds Office independent of the Department of Corrections to visit prisons, to learn both formally and informally about grievances and concerns of those in prison, attempt to resolve them, and bring conditions to light when appropriate.

The new Ombuds Director, Joanna Carns, reached out to Quaker Voice and other supporting organizations to request their input, has met both individually with Quaker Voice and with the larger group of supporting organizations, and continues to do so on a regular basis.

Such efforts should not only help persons in prison and their families but also help to reduce the costs and acrimony of legal disputes. Passage of the ombuds bill is especially satisfying, because this year Quaker Voice played a leadership role in the broad coalition for the ombuds effort.

Reform of Legal Financial Obligations (LFOs) for persons released from prison (HB 1783) passed both houses, has been signed by the Governor, and is now law (Success):
LFO reform eliminates the interest (previously 12 percent) on all non-restitution LFOs going forward, requires that courts not impose costs on a defendant who is indigent at the time of sentencing, and places restitution at the front of the line in receiving funds that are collected.

Most released prisoners, particularly those with a background of low income including many people of color, have a difficult time getting housing or a job. As a consequence, they find it almost impossible to pay off these debts, a situation that compromises their ability to reconstruct their lives.  This reform will help them rehabilitate their lives, and by so doing, will enhance public safety.
Abolish the Death Penalty:

The Washington State Supreme Court ruled the death penalty unconstitutional on October, 2018.  Previously, legislation to abolish the death penalty (SB 6052), passed the Senate in 2018 on a close and dramatic vote, but was not brought to a vote in the House.  See also above under 2019 session.
Police Accountability (Success):
I-940, which enhances police accountability and training in de-escalation and mental health issues, and was endorsed by Quaker Voice, was approved by the WA state electorate in November, 2018.
A "good faith" rather than "with malice" standard for police accountability will be used and de-escalation and mental health training will be required.  See also above under 2019 session.

Ban the Box (Success):
"Ban the Box" passed.  It is the catch-phrase description for legislation to prohibit questions about a job applicant's possible criminal history on initial application forms (as in a check-box for previous convictions), thus allowing an applicant a fair chance for job consideration at this first critical stage.
Community Review Board (consideration for parole for persons with long-term sentences):
Quaker Voice supported HB 1789, a bill for study of consideration for parole after 20 years.  Unfortunately, the bill would be only a first step toward actual consideration for parole and was not passed.  See Post-conviction Review Board above under 2019 session.
Driving with License Suspended 3:
Quaker Voice supported bills to change driving with license suspended 3 from a misdemeanor to a civil infraction, but these bills did not proceed in 2018.  Driving with license suspended 3 typically occurs for persons unable to pay fines (not for serious actions such as DUI), including low-income people.  See also above under 2019 session.
Other issues to monitor:
Immigrant detention; Repeal of mandate to notify immigration authorities (SB 5689); Voting rights for persons in prison convicted of a felony; Released offender identicards; Sentencing under 21; Restorative justice; Foster care (state raised) issues; Solitary confinement; and Incarcerated elderly.
Long Term Goals:
Give priority to efforts to repair the harm suffered by victims over attempts to punish offenders
Look for opportunities to take preventive action to identify and address the causes of crime
Replace costly incarceration through diversion, drug treatment, job training, and education whenever appropriate
Redress the racial inequity of our current criminal justice system
Support offenders' efforts to redeem themselves and reintegrate into society
Criminal Justice Resources:
Firearm Fatalities in Washington State updated 10-29-2013